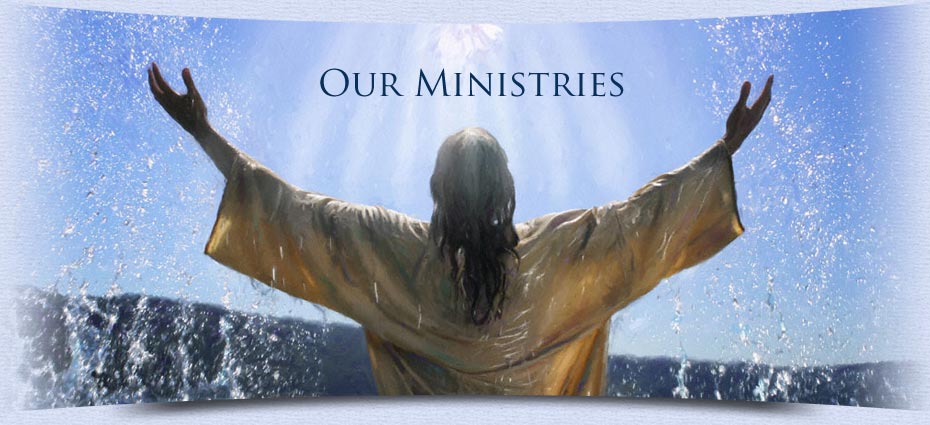 Women's Ministry
Lutheran Women's Missionary League (LWML meets on the 2nd Monday of each month @ 12:30 p.m. in the Fellowship Hall for Bible study, fellowship, and planning for missions projects, both locally and internationally. In-depth morning and evening Bible studies, specifically for women of all ages, usually video-based, are held in the fall, winter and spring. Check the monthly "First Word" for upcoming Bible studies.
Men's Ministry
Several Bible studies and support groups for men of all ages are on-going. Each Thursday @ 6 a.m. men meet for a "Today's Light" Bible study at the English Muffin café. Each Saturday at 8:00 a.m., a group of men meet in the Fellowship Hall. Special, short-term Bible studies are held throughout the year. Check the monthly "First Word" for upcoming studies.

ONE-EIGHTY Student Ministry
Wednesdays @ ONE-EIGHTY Our youth ministry invites Jr and Sr High students to gather in the Family Life Center for fellowship, Bible study, and supper each Wednesday during the school year. Students from all school districts are welcome. Students at the Hot Springs Junior Academy and the High School are picked up following early dismissal on Wednesdays at 2:15 p.m. in our church van.
Confirmation Classes – Students meet on Sunday mornings at 10:00-10:45 a.m. to learn the basic teachings of Christianity and the Lutheran faith.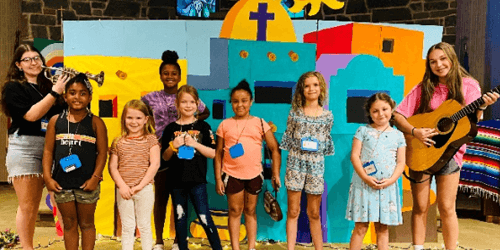 Treehouse Children's Ministry
Our purpose for Children's Ministry is to lead children of all ages to Jesus, as well as help parents in their responsibility to nurture their children's faith and keep it growing. We offer Kids Church classes during both our 8:30 and 11:00 a.m. worship services each Sunday. Children stay in the worship service with their parents until the sermon begins. We sponsor special fun events for children throughout the year and we host a 5-day Vacation Bible School each summer.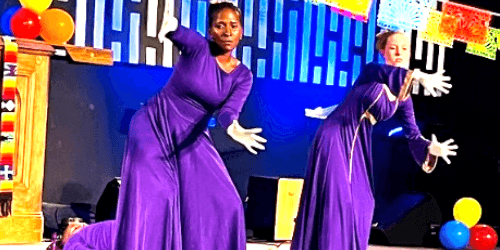 First Lutheran Junior Worshipers
The purpose of FLJW is to minister the Gospel through various styles of visual interpretation including liturgical and spiritual dance. Children are youth are invited to join this team! Their vision is to develop strong worshipers that will minister to others using the art of dance to express the feelings and emotions of God with purpose. They practice weekly and perform in our worship services several times a year.
Worship Choir
The worship choir sings anthems several times each month at the 8:30 a.m. Traditional Worship service. The choir practices each Sunday morning at 7:45 a.m. in the church sanctuary. Anyone with a love of singing with others is welcome to join the choir!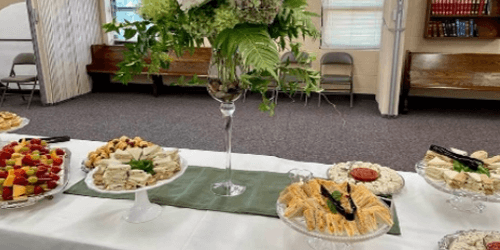 Touch Team
The Touch Team ministry provides food for congregational events and funerals. They specialize in hospitality and good cooking. They also provide meals when needed for people recovering from illness and other special circumstances.
Altar Guild
The Altar Guild ministry takes care of preparation for Holy Communion and altar flowers, candles, and other liturgical symbols for all our worship services.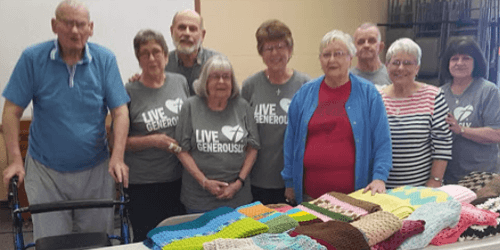 Prayer Shawl Ministry
The Prayer Shawl team knit and crochet small lap robes and blankets (most handwork is done in individual homes) to be given to people in hospice or those going through long illness. The team prays over each blanket that the recipient feels the warmth of God's love as they use their blanket to warm and comfort them. The Prayer Shawl Ministry is a way to reach out to people going through a life challenge and projects the message they are being prayed for and cared about. Each shawl becomes a physical reminder of God's healing presence. It brings feelings of peace, healing, love, comfort and hope. In addition to the shawls, lap robes and scarves are knitted/crocheted for the patients at the VA hospital.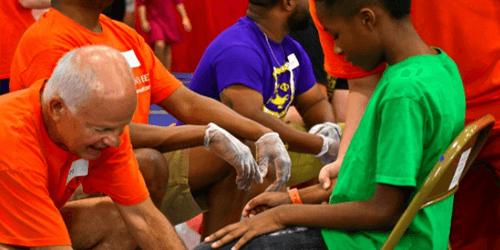 Outreach Ministries
First Lutheran Church actively seeks to serve our community in many ways throughout the year. Some of our outreach activities are Samaritan's Feet Shoe Giveaway (August), serving lunch @ Jackson House, Next Level Sports program at YMCA Summer day camp, Salvation Army Angel Tree, God's Closet Food Pantry, Good News Bible Club at local public schools, and many more.
Hot Springs Christian Singles & Friends
We are a Christian social group for mature (50 and up) singles in the Hot Springs and Garland County area. Singles as well as others who may be separated, their spouses living in extended care facilities or in other living arrangements are invited. While support for the group is sponsored by First Lutheran, it is designed for Christian singles from small and medium size churches who are looking for fellowship with other singles. Often, they feel left out or sidelined at activities within their local church. Efforts are made to allow for fellowship while supporting the ties to their home congregation. The group generally supports one social activity and one Bible study per month. Social activities may include group activities such as eating out, potlucks, concerts, movies, sporting events, regional festivals, recreational activities (hiking, kayaking, etc) & games nights. A monthly Bible study is also available for those who are interested in enhancing their spiritual journey. Singles may attend individual events or participate in all the sponsored activities.